In town? Come Come Mark Hall-Patton! SNCCC...
If in town, please join us!
SOUTHERN NEVADA CASINO COLLECTIBLES CLUB
MARK HALL-PATTON - Guest Speaker
The next meeting of the SNCCC will be November 14 at 7pm at THE GOLD COAST HOTEL & CASINO 4000 W. FLAMINGO, Las Vegas, NV, SALON A, LOCATED BY THE VALET ESCALATORS.
YOU ARE CORDIALLY INVITED TO ATTEND OUR MONTHLY MEETINGS!!!
At our meetings, we have trading and selling of Casino Memorabilia, which starts at 6 PM and resumes following the meeting. You are invited to both the meeting and trading sessions.
The Club also conducts an auction. You can see the list of items and scans in this message. In the event you are not able to make it in person, you are welcome to email me (Jerry Vergatos, email is below) with your highest bid. Just include your CCA or SNCCC membership number and which lot you want to bid on. Payment for winning bids is due at the end of the auction. If you are an absentee winner, you will receive an invoice. You may bring any items for future auctions with you. Any form of Casino Memorabilia is welcome. The Club takes a 20% seller's fee, unless you opt to donate all proceeds to the Club.
This meeting will include a 'Call for Nominations' for Club Officers. If anyone is interested in running for an Officer position, please feel free to express an interest and perhaps be Nominated (with a second) to run.
GUEST SPEAKER – Mr. Mark Hall-Patton, Museum Administrator for the Clark County Museum. He oversees the Howard W. Cannon Aviation Museum and the Searchlight History Museum. He is a regular on History Channel's "Pawn Stars" as an expert on historical artifacts.
There will be a 50/50 raffle for cash and/or prizes which is quite fun! If you are not yet a member or your membership has lapsed, I invite you to join the SNCCC. An annual membership is only $12.00 payable at the door. You are, of course, welcome as a guest to see what we're all about and you can bring your friends as well at no charge or obligation!!!!!!!!!!
Our meetings are pretty short which gives you lots of time to socialize and gain knowledge about whatever interests you with casino memorabilia.
On behalf of the SNCCC, I sincerely hope you will join us and hope to talk to everyone there.
Jerry Vergatos
President
Southern Nevada Casino Collectibles Club
snccccomment@gmail.com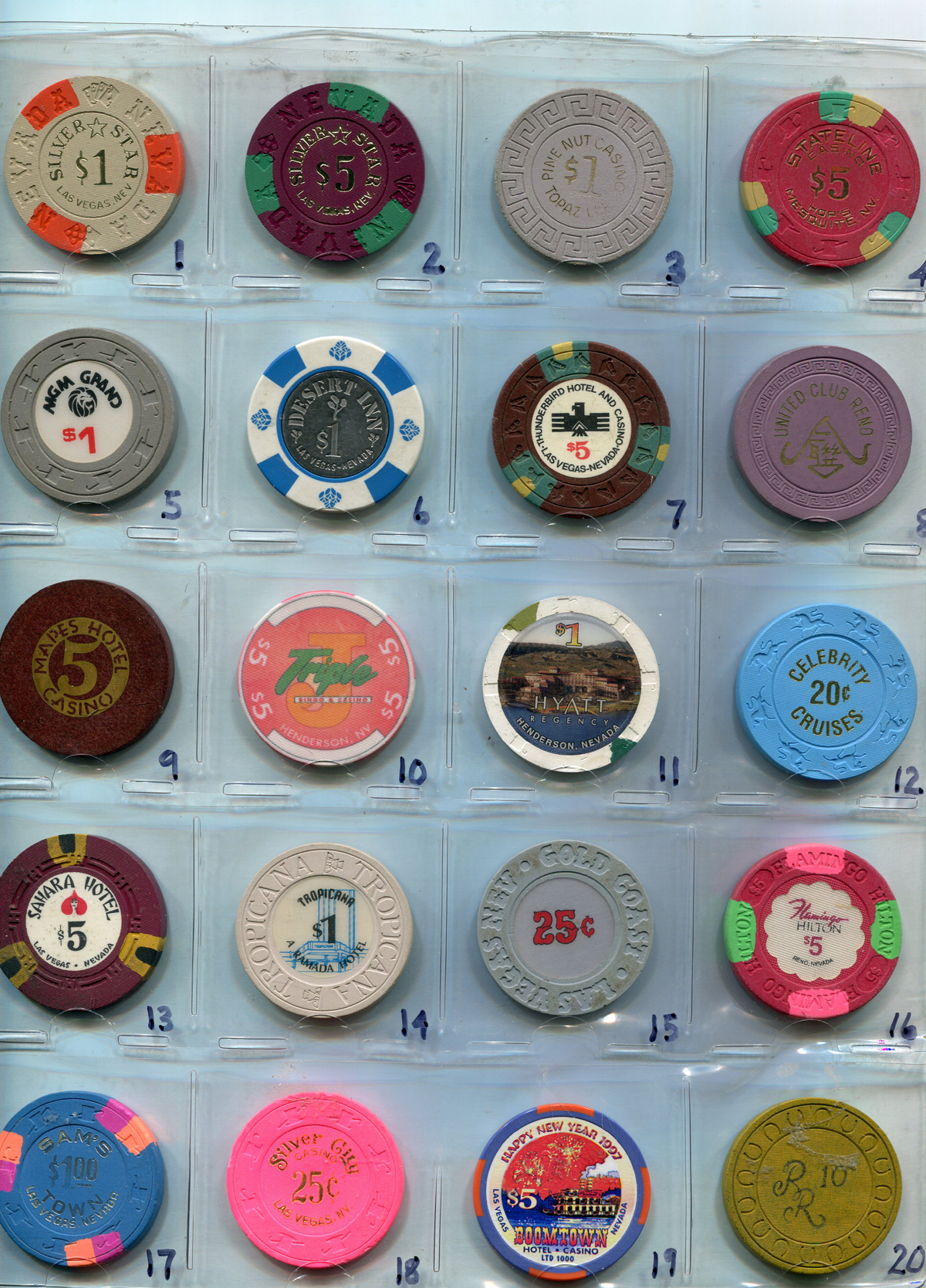 LOT # ITEM DESCRIPTION TCR # MIN BID
1 SILVER STAR $1 CHIP N2192 $1.00
2 SILVER STAR $5 CHIP N2187 $1.00
3 PINE NUT CASINO TOPAZ LAKE NV $1 CHIP N6225 $1.00
4 HOP'S STATELINE CASINO MESQUITE NV $5 CHIP N7849 $1.00
5 MGM GRAND $1 CHIP N1908.S $1.00
6 DESERT INN $1 CHIP N1489.S $1.00
7 THUNDERBIRD $5 CHIP N2248 $1.00
8 UNITED CLUB RENO .25 CENT CHIP N5600 $1.00
9 MAPES HOTEL RENO $5 CHIP N5227 $1.00
10 TRIPLE J CASINO HENDERSON NV $5 CHIP N0555 $1.00
11 HYATT REGENCY HENDERSON NV $1 CHIP V4668 $1.00
12 CELEBRITY CRUISES .20 CENT CHIP X $1.00
13 SAHARA HOTEL $5 CHIP N2098 $1.00
14 TROPICANA $1 CHIP N2272 $1.00
15 GOLD COAST .25 CENT CHIP N1697 $1.00
16 FLAMINGO HILTON RENO $5 CHIP N5068 $1.00
17 SAM'S TOWN $1 CHIP N2460 $1.00
18 SILVER CITY .25 CENT CHIP V3395 $1.00
19 BOOMTOWN NEW YEARS EVE 1997 $5 CHIP N8016 $1.00
20 RENO RAMADA RENO .10 CENT CHIP N4420 $1.00
21 7 ASSORTED CHIPS X $1.00